Holy Fable
The Old Testament Undistorted by Faith
We had to choose between faith and understanding, between a deductive and an inductive approach, between studying the text as a means to some theological end and studying it for its own sake. In each case we chose the latter. What else could we do? We knew too much to retreat into the Toyland of dogma, reading scripture with blinders on. Too late for that. And to reject the Bible as bunk would have been another version of the same thinking: Is the Bible to be considered a true or a false magic book? To be embraced if you believe it to be true, rejected like a counterfeit bill if you decide it is false? No, we decided the books of the Bible were of new and enormous interest, precisely the same way the Iliad and the Odyssey are of interest to Classicists, which is sort of what we became.
—Introduction, Holy Fable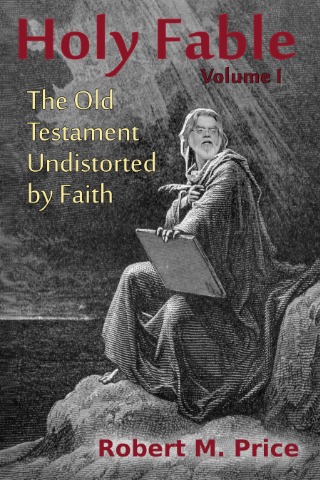 In this first of a comprehensive two-volume study of the Old and New Testaments, Dr. Robert M. Price builds a spacious and sturdy ark to carry Bible readers over the floods of mystery that have long perplexed them.
Why are there multiple creation stories? Who are the "sons of god" in Genesis? What's really going on with those Isaiah passages that preachers love to read at Christmas?
Putting a lifetime of biblical scholarship hard at work on perhaps his most momentous project yet, Dr. Price explains the mysteries without scorning them. The beloved old Bible is revealed to be indeed a Fable, but still a Holy one in its sprawling and fascinating way.
With 340 pages of explanation about each and every book from Genesis to Amos, Holy Fable is an ample match for the Old Testament's heft and detail. Take a look at the print edition's Table of Contents, reproduced in its entirety below some kind words from reviewers of the book.
Reviews
Robert M. Price's Holy Fable is a remarkable hybrid, combining the genre of Biblical Introduction (for both Testaments) and comprehensive commentary. The book aims–and succeeds–in conveying highly specialized material in plain and even humorous speech. It is like listening to the Bible Geek podcasts he is famous for. It is straightforward enough that no one should get lost in the weeds but even serious scholars should be able to discover new and surprising insights here. Price has learned much–and has much to teach–from biblical scholars from the great Higher Critics of the Nineteenth Century, Baur, Strauss, Wellhausen, et. al., all the way to today's controversial "Minimalists" like Lemche, Davies, and Thompson. Believers and skeptics alike will probably find things in Holy Fable to annoy as well as delight them!
Every serious biblical scholar should read this book. None will agree with everything in it, some will dismiss the lot, but most will recognise the questions that Price raises. These are questions that biblical scholars prefer to avoid. Price does not treat the Bible as a sacred text to be pondered and treasured by the community that produced and preserved it, but rather engages with those who treat the Bible as a deposit of literal historical truth, the position of many Bible users today. These people should ponder his questions.
Price has an easy-to-read and fast-moving style which is a breath of fresh air. But do not be deceived: This is not a lightweight book. It is an accessible feast of well-digested learning.
Robert Price has succeeded brilliantly in what seems to me an almost impossible project: producing a commentary on the entire Protestant Bible. Not only has he amassed mountains of information from all the most important primary and secondary sources, he has made everything wonderfully clear and delightful to read . . . . Again and again, Price reveals features that have been invisible to the eyes of those of us who have been reading the Bible since childhood, but still have difficulty seeing how it really looks without the distorting optics retained from our believing years. Holy Fable would serve as a great textbook for courses on the Christian Bible taught at secular colleges and universities.
Magna est veritas et prævalebit. "Mighty is truth and it will prevail." What is presumed to be holy can turn out to be a fable, yet even some fables and fairy tales can convey profound truths. We need not understand them literally or historically to benefit morally and intellectually from them, only critically. Robert M. Price's Holy Fable is a search for truth, and as such it serves what is most sacred, and manages to do so with impressive wit and deft insight. Price is that rare soul able to combine the supposed opposites of critical scholarship and genuine spiritual sensibility.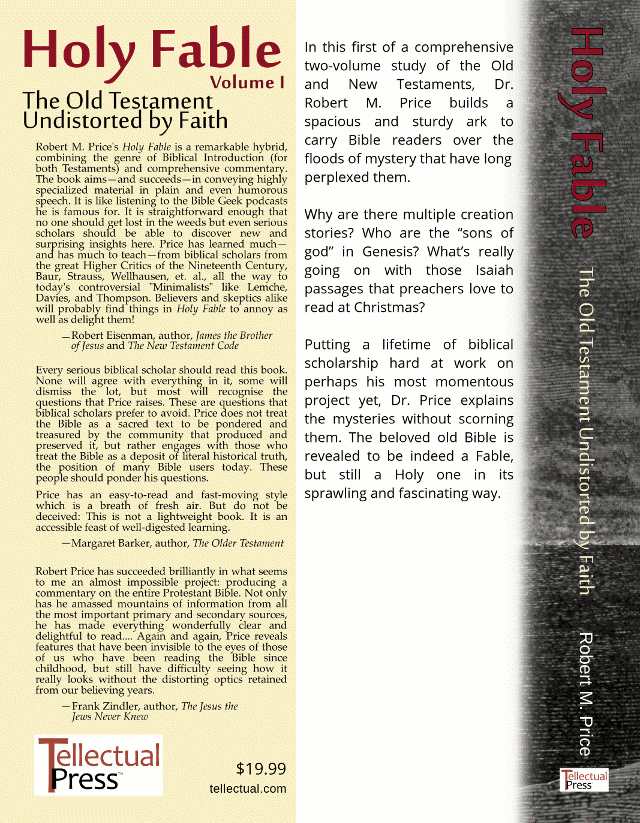 ———
Table of Contents
3
Introduction: The Old Testament of History versus the Scripture of Faith
9
Patchwork Pentateuch: Source Criticism
11
Mosaic Tiles: Form Criticism
12
The Six Day Creation: Gen. 1:1-2:4a
16
The Garden of Eden: Gen. 2:4b-3:24
22
The Cain Cycle: Gen. 4:1-17
26
The Pre-Flood Patriarchs: Gen. 4:18-5:32
28
The Sons of God and Daughters of Men: Gen. 6:1-2, 4
29
The Great Flood: Gen. 6-9
30
Noah's Curse: Gen. 5:28-29; 9:20-27
32
The Table of Nations: Gen. 10
33
The Tower of Babel: Gen. 11:1-9
34
The Patriarchal History
36
The Oaks of Moreh: Gen. 12:6-7
36
Between Bethel and Ai: Gen. 12:8
36
The Sacred Tamarisk: Gen. 21:33
37
God's Covenant with Abraham
39
Sodom and Gomorrah: Gen. 18-19
42
The Sacrifice of Isaac: Gen. 22:1-19
44
Hagar and Ishmael: Gen. 16:1-4; 21:9-21
45
Jacob Cheats Esau: Gen. 25:27-34; 27:1-45
46
Jacob's Ladder: Gen. 28:10-22
47
Jacob Wrestles with "God": Gen. 32:22-32
49
The Burials of Deborah and Rachel: Gen. 35:8, 19-20
49
Judah and Tamar: Gen. 38
50
Joseph the Hebrew Osiris: Gen. 37, 39-50
59
II: Exodus, Leviticus, Numbers, Deuteronomy
61
Moses the Second Jacob
62
The Plagues: Exod. 6-11
63
Passover and the Feast of Unleavened Bread: Exod. 12-13
64
The Sea of Reeds: Exod. 13-14
65
The Torah: Exod. 18-19
65
The Book of the Covenant: Exod. 20:20-23:33
68
Ten Plus Ten Commandments: Exod. 20 // Exod. 34, Deut. 5:4-21
71
The Golden Calf: Exod. 32:2-6, 24
74
What Is Deuteronomy about?
77
The Holiness Code: Lev. 17-26
80
Moses Stories Formally Classified
80
Ceremonial and Legal Precedents
80
Can You Guess my Name? Exod. 3:1-15 // 6:2-8
81
Birth of Bureaucracy: Exod. 18:1-27 // Num. 11:11-12, 14, 16, 24-30
82
Origin of the Levites: Exod. 32:25-29
84
Fire Extinguisher: Lev. 10:1-3
84
Jockeying for Position: Num. 12:1-12
85
Was that Kindling Really Worth it? Num. 15:32-36
85
Levitical Labor Dispute: Num.16:1ff
85
Geological and Etymological Stories
85
Bittersweet Miracle: Exod. 15:22-25
86
Ol' Massah: Exod. 17:1-7
86
More Murmuring: Num. 20:1-13
87
Feed me till I Want no More: Exod. 16:1-36 // Num. 11:4-9
87
Etymological and Ethnological Stories in the Pentateuch
93
III: Joshua, Judges, Samuel, Kings
97
Harlot with the Heart of Gold: Josh. 2:1-24
97
On Jordan's Stormy Banks: Josh. 3-4
98
General Revelation: Josh. 5:13-15
98
Joshua Fit de Battle of Jericho: Josh. 6
98
One Expensive Suit! Josh. 7
99
Hands-on Astronomy: Josh. 10
99
Alternate Altar: Josh. 22
100
A New Covenant: Josh. 8:30-35; 24:1-28, esp. vv. 1, 14-28
101
Go Directly to Jael: Judg. 4-5
102
Gideon (Jerubbaal): Judg. 6
103
Jephthah, A Devil's Bargain with God: Judg. 11; 12:1-6
104
Miraculous Nativity: Judg. 13:2-5
104
The Lion and the Riddle: Judg. 14:1-19
104
Foxes in the Field: Judg. 14:20-15:8a
104
The Jawbone of an Ass: Judg. 15:8b-17
105
The Miraculous Spring: Judg. 15:18-19
105
The Ambush at the Gate: Judg. 16:1-3
106
Why, Why, Why, Delilah? Judg. 16:4-31
106
Chaos without a King: Judg. 19-21
108
The Nativity of Samuel: 1 Sam. 1:1-27
108
Hannah's Song: 1 Sam. 2:1-10
108
The Corruption of Eli's Sons: 1 Sam. 2:11-36
109
First Revelation to Samuel: 1 Sam. 3
109
Philistine Raiders of the Lost Ark: 1 Sam. 4-6
110
Death inside the Ark! 1 Sam. 6:19-21
110
Saul's Kingship Is Good
111
Saul's Kingship Is Bad
112
David and Goliath: 1 Sam. 17
113
David versus Saul: 1 Sam. 18-20, 24, 26
115
The Witch of Endor: 1 Sam. 17
116
The Death of Saul: 1 Sam. 31
117
David Becomes King: 2 Sam. 2-5
118
Ark of Electricity: 2 Sam. 6
119
The "House" of David: 2 Sam. 7
120
Enthroned on an Ejector Seat: 2 Sam. 11-20
121
Scions of Zion: 2 Sam. 14-18, 1 Kings 1
123
Wicker Men: 2 Sam. 21:1-14
124
War of the Demigods: 2 Sam. 21:15-22
125
Solomon's Choice: 1 Kings 3:5-15
126
Splitting the Difference: 1 Kings 3:16-28
127
The Temple: 1 Kings 5-8
131
Chock Full o' Gods: 1 Kings 11:1-8
136
Elijah Decrees Three Years of Famine: 1 Kings 17:1-7
136
The Ever-Renewing Meal and Oil: 1 Kings 17:8-16
136
Elijah Raises the Widow's Son: 1 Kings 17:17-24
137
Elijah Calls Down Fire from Heaven: 1 Kings 18:17-40
137
The Elijah Whisperer: 1 Kings 19:1-18
137
Elijah Calls Elisha: 1 Kings 19:19-21
138
Naboth's Vineyard: 1 Kings 21
138
Micaiah's Mockery: 1 Kings 22
140
Elijah Preempts the Oracle of Baal-Zebub: 2 Kings 1:2-8
140
Elijah Calls Down Fire from Heaven: 2 Kings 1:9ff.
141
Elijah's Ascension: 2 Kings 2:1-18
141
Elisha Purifies the Water: 2 Kings 2:19-22
142
Elisha and the Bears: 2 Kings 2:23-25
142
Elisha's Role in the Moabite War: 2 Kings 3
142
Elisha Multiplies the Oil: 2 Kings 4:1-7
143
Elisha and the Shunammite: 2 Kings 4:8-17
143
Elisha Raises the Shunammite's Son: 2 Kings 4:18-37
143
Elisha Purifies Poisoned Food: 2 Kings 4:38-41
144
Elisha Multiplies the Loaves: 2 Kings 4:42-44
144
Elisha Heals Naaman the Syrian: 2 Kings 5:1-19a
145
Gehazi's Greed: 2 Kings 5:19b-27
145
Elisha Makes the Axe-Head Float: 2 Kings 6:1-7
145
Elisha Reveals the Army of God: 2 Kings 6:15-17
146
Elisha, Gehazi, and the Shunammite: 2 Kings 8:1-6
146
Elisha Ordains Hazael King of Syria: 2 Kings 8:7-15
146
Elisha Ordains Jehu King of Israel: 2 Kings 9:1-13
146
Elisha's Deathbed Prediction: 2 Kings 13:14-19
146
Elisha's Postmortem Miracle: 2 Kings 13:20-21
147
The Savage Sword of Jehu: 2 Kings 10
147
The Messiah Hezekiah and Josiah's Reformation: 2 Kings 18:1-8, 22-23
148
The Mouse that Roared at Sennacherib: 2 Kings 19:32-37
149
Isaiah Turns Back the Clock: 2 Kings 20:1-11
161
IV: Chronicles, Ezra, Nehemiah
162
The Fall of Saul: 1 Chron. 10:1-14 vs. 1 Sam. 31:1-13
163
Battle of the Blind: 2 Sam. 5:6-8
163
Rallying the Ranks: 1 Chron. 13:1-4
165
The Testament of David: 1 Kings 2:1-9 vs. 1 Chron. 22:2-19; 28:1-29:9
166
Laundering the Emperor's New Clothes
166
Blueprints for the Temple: 2 Chron. 2:1-18
168
Launching the Temple: 2 Chron. 5:2-7:10
172
Forgetting the Lessons of History
172
Jumpin' Jehoshaphat: 2 Chron. 17-20
175
Sennacherib's Bullying: 2 Kings 18:13-37; 2 Chron. 32:1-19
175
The Man(asseh) of Sin: 2 Kings 21:1-18; 2 Chron. 33:1-20
176
Josiah the Second Hezekiah: 2 Chron. 34
179
Putting it all Together
183
V: 1 Maccabees, 2 Maccabees
186
Two New Testament Borrowings
189
VI: Ruth, Esther, Daniel, Jonah, Judith, Tobit
194
The Apocalypse of Daniel
201
VII: Psalms, Song of Solomon, Lamentations, Psalms of Solomon, Prayer of Manassah, The Song of Azariah and the Three Young Men
201
The Psalms: Words without Music
204
That Old Time Religion
226
Psalms of the Levites
237
Lamentations of Jeremiah
238
The Prayer of Manasseh: 2 Kings 21, 2 Chronicles 33
239
The Song of Azariah and the Three Young Men: Dan. 3:24-90
245
VIII: Proverbs, Wisdom of Solomon, Sirach, Job, Ecclesiastes, Testament of Solomon
251
Sirach: Ecclesiasticus or The Wisdom of Jesus ben Sirach
258
Ecclesiastes: Qoheleth
263
IX: Isaiah, Jeremiah, Ezekiel, Amos
264
Deuteronomic Anachronism
267
Moses: Exod. 3:1-12; 4:10-13; 6:10-12; 7:1-4
271
Sacred Charades: Jer. 13
272
Wonderful Marriage Counselor: Jer. 16, Ezek. 24, Hosea 1, Isa. 8
273
The Potter's House: Jer. 19
274
Drink Ye All of It: Jer. 25
274
Battle of the Prophets: Jer. 27-28 // Deut. 18
276
Buyer's Market: Jer. 32
276
Crocodile Rocks: Jer. 43
277
Book in the Brook: Jer. 51
277
Sacred Cow Pies: Ezek. 4
279
Baring Witness: Isa. 20
280
Narratees versus Readers
284
The Temple Epiphany: Isa. 6:1-13
286
Birth Announcement: Isa. 7:1-17
291
The Bigger They Are ...: Isa. 14:3-20
293
The Apocalypse of Isaiah: Isa. 24-27
299
Songs of the Servant: Isa. 42:1-9; 49:1-12; 50:4-11; 52:13-53:12
305
Some More about the Servant
307
The Contrived Christian Isaiah
313
The Vengeance of Nitocris: Jer. 43-44
314
O Christmas Tree? Jer. 10, Isa. 46
318
Pretty Tired of Tyre: Ezek. 28:1-19
320
Dem Dry Bones: Ezek. 37
322
The Stoneheart Group: Ezek. 36, Jer. 31
322
Invidious Individualism: Jer. 31, Ezek. 18
323
Ezekiel the Architect: Ezek. 40-46
323
Ezekiel's Close Encounter: Ezek. 1
325
The Book of the Twelve
---
Get Holy Fable for your Kindle:

---
Other Books
---