Ten Tough Problems in Christian Thought and Belief
A Minister-Turned-Atheist Shows Why You Should Ditch the Faith
Any one of the problems is probably sufficient to falsify Christianity. Maybe, with a lot of heavy lifting and straining, you could overcome one or two, but all ten? You will find that quite a few problems are swept into each of the ten categories. This book is intended to help understand what the fuss is about with all these atheist books, and support atheists as they fight the good fight.
—Introduction, Ten Tough Problems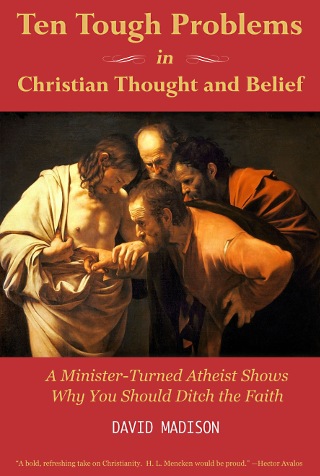 An all-powerful God who permits unspeakable horrors and sent a Son who threatened more to come, forever, to those who don't believe in him. An inspired holy book that turns out to be full of archaic nonsense, moral failures, and contradictions. A world of disagreement not just between Christians and other religions, but within Christianity itself. Blood sacrifice and a tale of the walking dead as the very foundation of faith. These are just a few aspects of Ten very Tough Problems that David Madison describes in this wonderfully deep yet humorous dismantling of his former faith. Combining rigorous scholarship with engaging personal reflections and refreshing wit, he offers understanding and even some laughs while walking with readers past the gravestones of Christian thought and belief.
The book includes a Foreword by Bruce Gerencser, a former Independent Fundamental Baptist preacher. He now posts thoughtful and moving essays about atheism, humanism, and the challenges of his own physical infirmities at BruceGerencser.net. He envisions "numbers of fuming Evangelicals lining up at the doors of pastors' studies once they have finished" Ten Tough Problems, "wanting to know why they have never been told about the theological issues raised in Madison's book."
The proverbial horse, Gerencser says, "is out of the barn, and he ain't coming back."

This is no tedious theology tome; university libraries have plenty of those sitting unread in their stacks. It's a lively, often intensely personal take-down of the world's biggest and yet most fractured religion, full of what Gerencser calls "snark and comedic storytelling." These "gleeful interludes" he sees doing the same work (though obviously with a different conclusion!) as preachers' sermon illustrations. Let's face it, he says,
theology without a bit of levity is boring, and David does a wonderful job breathing life into a critique of the old faith once delivered to the saints. Diehard Evangelicals will likely not appreciate his snarkiness, but I suspect most other readers will enjoy the way he weaves his life experiences in and out of his arguments against Christianity.
Reviews
Dr. David Madison pulls no punches in this wide-ranging critique that explains why Christianity fails to satisfy human reason, evidence, or even basic human social needs. From the problem of evil to the claim that the Bible is the word of God, Dr. Madison exposes the problems of Christian belief as few others can. As a former believer, he understands why Christians believe what they do. As a formally trained biblical scholar, he can detect all the ways that bad biblical scholarship is being used to prop up Christian belief. Given its highly accessible language, Ten Tough Problems in Christian Thought and Belief is ideal for those who wish to start exploring why Jesus is not the answer, and why Christianity has never given good answers to life's most important questions.
David Madison's book, written from the perspective of a former Christian minister and scholar, is engaging, personal and erudite. I wish I had known about him when I was conducting interviews for the Dennett-LaScola study of non-believing clergy. He would have provided insights from a liberal Christian point of view that are hard to come by.
I admire David Madison for researching and producing this spectacular work, clearly and forthrightly exposing the fatal flaws of Christian belief. Madison's esteemed background as a Christian scholar and former believer make his arguments both entertaining and irrefutable to any thinking person. I've personally been involved for forty years in the debate between Christianity and atheism, but I learned something new and gained a richer perspective on virtually every page of this unique and extraordinary volume, which reads as easily and pleasurably as a spy novel. Parts of this book are funny as hell! David Madison claims to address Ten Tough Problems in Christian Thought and Belief. But, spoiler alert, Madison's wealth of knowledge, as revealed so admirably in these pages, rebuts far more than a mere ten problems with the Christian religion. My highest and most enthusiastic recommendation.
Dr. David Madison's Ten Tough Problems is not just a good book–it's an in-depth analysis of the Christian faith and all that it entails. Madison, a minister-turned atheist, shows exactly why Christianity isn't a reasonable or evidence-based position and how bad biblical scholarship has propelled the religion to its current popularity. Exhaustive but not overwhelming, deep but also funny, I recommend this book to anyone.
---
Get Ten Tough Problems for your Kindle:

---
Other Books
---