Good Times in Old Genesee
Our ranch house was the first plastered-wall house in northern Idaho, but it was still a cold building by modern standards. The number and thickness of our quilts and blankets testified to the cold winter winds that blew through the cracks and crevices of the old house.
There were at least 5 large bedrooms, a kitchen, and a living room. The toilet was out back. We used a wash tub to take a bath.
As a family, we huddled around the living room oil stove in the winter evenings for a chance to get some of the heat it put out. When the weather was especially cold and windy, we would use hot water rubber bottles to warm our beds before entering under the covers.
—Good Times in Old Genesee
With help from his granddaughter Tea Joe, Gerald Hickman shares his love of Western U.S. history in Good Times in Old Genesee. It's a trip in time to his childhood ranch and beyond, back to the pioneers, in the Genesee valley of North-Central Idaho. It's a visit to Old Genesee, a small community deep in the winter snows and summer grains where his family found a place for themselves.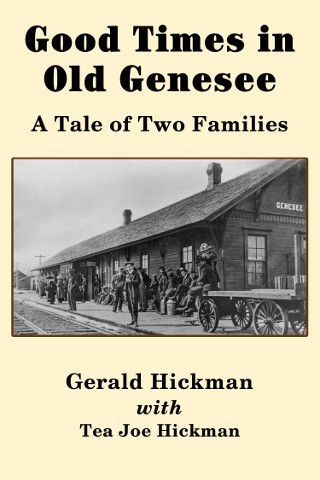 The book covers the period from the first settlers of the 1870s to World War II. It describes the natural history of the area, the early town, and the farming and country life of the early pioneers and those who followed, as engines replaced horses out in the fields.
Gerald lives in Eastern Washington near the rolling Palouse hills that stretch out south-ward to Genesee, with Micky, his childhood bride of 47 years.
Having recently turned 70, he says he's "taken some time to review my three score and ten, a life of growing and learning, work and play. It's been pleasant to muddle around in my memories and find misplaced, forgotten occurrences."
The little prairie town of Genesee is his hometown, Gerald says, and it always will be."The research for this history of such a place on the frontier of Idaho, the old photos, the stories all fascinated me. Through this book, I hope to share some of my interests and fascination with the history of the town and its people."
He "enjoyed growing up on a ranch and farm in north-central Idaho, in the famous Palouse Hills. This land was part of the original Nez Perce Tribal Reservation, which was formed by the Treaty of 1855, as designated by territorial Governor Stevens."
The family ranch was "only" 212 acres, he says, with a double row of fruit trees and a hedge of plants to keep the livestock in."It was diversified in production, but not big enough to be a successful family ranch or farm in the years to come. My family left the Genesee area because the expense of nitrogenous fertilizer, seed and equipment did not justify working on such a small acreage." Nowadays, his family ranch is "part of a much larger area of leased acres, all in one unit."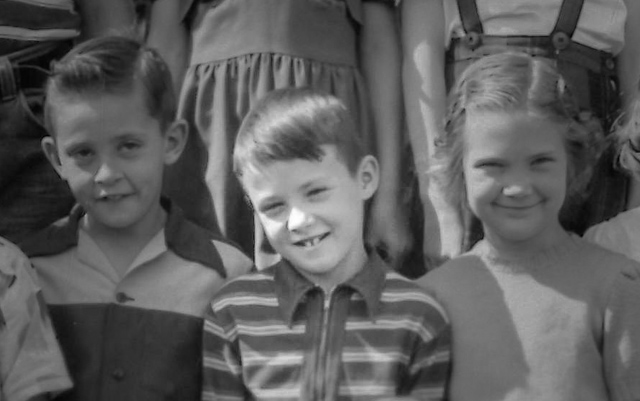 There's a bit more about Jerry on our Other Notables page.
Good Times in Old Genesee is a personal book, but also a historical one. With abundant digitally restored photographs and a plain-spoken narrative, it recalls the formation and transformation of Latah County and one tiny dot on its map that means a lot to a man who was born there some seventy years ago, from parents who were born there themselves.
---
Get Good Times in Old Genesee for your Kindle:

---
Other Books
---