Sins of the Fathers
Fast-paced, edge-of-your-seat suspense. I couldn't put it down once I began reading. The dialogue between characters is brilliant! It made me feel I was right there, a part of the action. Anyone who is familiar with Superior, Wisconsin, will instantly be transported to some famous landmarks and recall the notorious 50-year-old unsolved homicide investigation that inspired this fictional tale, and the effect that shocking crime had on the town. The multitude of sins of the various "fathers" and the unexpected twists in the plot kept me guessing to the end.
On a summer morning in 1966, fourteen-year old Michael Fisher set out on his paper route in Superior, Wisconsin. His body was found in a ditch but no killer ever was. Now, longtime Superior resident Judith Liebaert commemorates the Fisher case with a murder mystery of her own. Sins of the Fathers is set in her childhood hometown and also begins with a cold case from fifty years ago. But her debut novel is all fiction–from the opening scene where a shadowy old killer confronts a second victim to the surprising end when both murders are finally solved, in a way nobody expected.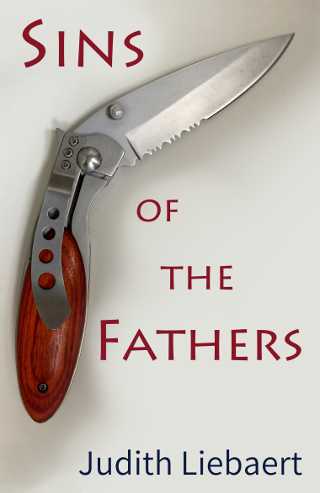 In her story, the 1966 murder was of Thomas Baker, who disappeared from the parking lot of the Immaculate Heart cathedral where he'd been expected to serve as an altar boy for early mass. His body was later found in the tall grass along the old refinery road. The cause of death was a blow to the head. With few suspects and even fewer clues, the case went cold almost overnight, leaving nothing more than its ghost to haunt the town.
The opening chapter is narrated by the killer. It's the only thing we hear from him until much later in the book."I never meant to kill anyone," he says, "but that was a choice made for me a long time ago. Maybe I could've left him there. But he could describe me."
And then the killer describes what he did next: "I got down on my knees, the gravel pushing sharp and deep through my pants, holding the kid as he started to struggle again. I wrapped my right hand behind his head, cupped his jaw in my left. Then I pulled hard and snapped his scrawny neck."
Fifty years later, reporter Rita Sullivan is well aware of the anniversary of the Baker Boy's death. And to her horror, another young boy is killed, and the old story seems to play itself over again. Fifteen-year-old Sean Nolan is found floating in the muddy water of the Nemadji river. Nolan, too, was last seen outside the Immaculate Heart rectory. Once again, with clues scarce and no apparent motive for the homicide, the case threatens to go cold.
Divorced with no children, and caught in a relationship limbo with no foreseeable future other than a quick end to her career, Rita's life is full of loose ends she'd rather seen tied in neat bows. Her grandfather "Pops" couldn't agree more. That is, until Rita starts asking questions about the cold case that Pops failed to solve.
Pops was a police officer with the Superior Department for more than ten years, one of its finest. He worked his way from beat cop to desk sergeant before the Baker Case tarnished his badge. One year later he resigned. Now it seems that Pops would just as soon forget the whole thing ever happened."It's been fifty years since the Baker boy was killed," he tells her over breakfast, irritated at her persistent interest in the old case."It's never going to be solved; why keep rehashing it? Killers just get lucky sometimes–there isn't enough evidence, no clear trail left behind."
But, despite her grandfather's protests, Rita cannot shake her interest in it. And the new case now turns what had been simple reporter's curiosity into an obsession. Convinced that closing the case left open by her Pops will somehow redeem him, Rita turns her reporter's instincts loose on the church. She goes in prepared to unearth some new story of a pedophile priest. Instead, she finds herself peeling back the murky layers of decades-old deceit, rattling the bones of her own family's dysfunction.
———
Rita is a reporter for the Superior Telegram, which is an actual newspaper in Superior, though everything about it in the book is otherwise fictional. The real paper ran a story about the book on June 21, 2016: "Superior cold case inspires murder mystery," by Maria Lockwood.
---
Get Sins of the Fathers for your Kindle:

---
Other Books
---