Edwin A. Suominen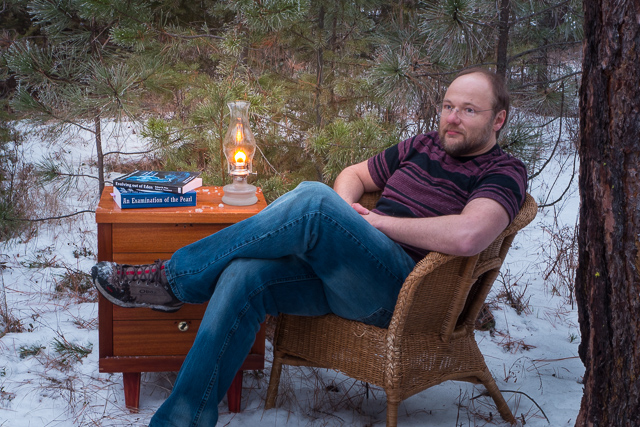 Ed holds a B.S. in Electrical Engineering from the University of Washington (1995), where his senior project wound up being the subject of fourteen U.S. patents with applications in many areas of Low-IF wireless technology, including Bluetooth®, FM, GSM, and Wi-Fi radio tuners.1 He also holds U.S. patents for technology relating to speech and hand­writing recognition, cryptography, digital signatures, and audio signal re­construction.
He has retired from practice as a registered patent agent2 to write books and blog posts rather than patents. He does the editing, cover design, advertising, and pretty much everything else involved with Tellectual Press. Ed's long-standing fascination with technology gets an outlet, too: He designed, wrote, and maintains Tellectual's proprietary publishing software.
———
His first book, self-published before forming the company, was An Examination of the Pearl. It's a 700-page study of his former fundamentalist Christian sect. The book, he writes on a separate website he maintains for it, "is an honest and unflinching examination of the pearl that Conservative Laestadianism puts on offer as the Kingdom of God. It is a study not just of that obscure revival movement from 19th century Lapland, but also of Martin Luther, fundamentalist and sectarian Christianity, and the Bible itself."
Learning about evolution due to some engineering work led him to finally question his church's teachings, not just about Adam & Eve, but also pretty much everything the church had to say. Their foundational point of doctrine–that of most Christians, in fact–is based on two specially-created original ancestors having a Fall that resulted in sin and hence the need for a Redeemer. Well, an undeniable mass of science fact made that look just plain silly. So what else might they be wrong about?
Plenty, it turned out. After spending a full year studying most everything his church had written about itself, and the Bible (the whole thing cover-to-cover), Ed sadly concluded that his childhood faith was "a self-sustaining doctrinal bubble that quivers unsteadily in the air, vulnerable to being poked by the slightest intrusion of fact."3
He sought out Dr. Price for some scholarly guidance on that effort, after listening to him on The Bible Geek podcast. The two of them became friends, and collaborators on several projects since, most notably Evolving out of Eden.
For that book, Ed devoted himself to a year of personal study about evolutionary science and its inter­section with theology. Yet he wears the label of "amateur"—a person whose pursuit of a field arises solely from "the love of it," amatorem—with pride, and also a great deal of respect for those who have devoted their professional lives to bringing the underlying information to the public.
———
Ed remains fascinated with technology, writing the software that builds this entire site, his blog postings, and Tellectual's new books. He lives among the tall pines of Eastern Washington with his beloved wife and the younger batch of their eleven wonderful kids.
Notes
---
See Washington Research Foundation's Success Stories page: "As an undergraduate in the University of Washington's Electrical Engineering Department during the mid-1990s, Ed Suominen invented a radio receiver technology with novel ways of tuning a radio among several channels. His work, with Professors John Sahr and Murat Azizoglu as advisors, resulted in a technology that eased the design and improved the performance of contemporary personal wireless data services such as mobile phones, personal computers and other devices. The invention has proven particularly well suited for use in Bluetooth-enabled wireless devices." ←

Louis J. Hoffman, PC:
valuablepatents.com/​firm-overview/​affiliated-patent-practitioners ←

From examinationofthepearl.org. If you're interested in the details of this very arcane subject, take a look at Ed's Another 95 Theses presentation on the site. ←